Solo exhibition displaying new art work in gallery S&H De Buck. Opening on the 16th of September at 3:00 p.m. The opening speech will be held by Bruno Vanobbergen (children's right commissioner) and a musical intermezzo will be performed by Peter Jacquemyn (contrabass).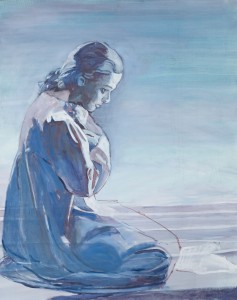 'guilty or innocent, that isn't the question',100×80 cm,2018
In this series of paintings, Johan Clarysse asks multiple questions, questions about the status of the child, the boundaries between being mature and immature, he explores the child's gaze on the adult world and the adult's gaze on the child.
On one hand, in line with J.J. Rousseau's views, the socialization of the child when growing up could be regarded as a form of power, exercised by (well-meaning) parents, the educational system and other societal institutions. It's a process that gradually slows down the innocence and pureness of the child. On the other hand, the question could be asked whether the child is indeed as innocent and pure as often is believed. It is important to take in mind that the way we think of 'a child' nowadays is relatively recent.
At the same time, the exposition is about the art of painting and how J. Clarysse gives form to the topics discussed above. The tension between the shaping of the content and the content itself. His images and portraits aren't straightforward, they
remain ambiguous. Tenderness and threat, guilt and innocence, playfulness and seriousness, nostalgia and criticism: they are all intertwined and one of them makes you recall the other one.

Finissage expo met film 'Cria Cuervos' of Carlos Saura: 21/10/2018, 2_5pm
Recensie H-Art:
In the paintings and drawings of Johan Clarysse, we enter a kaleidoscopic panopticon, made of stills à la David Lynch or Lars von Trier. The artist….
artikel h-art guilty or 1
Artikel the art Couch: about elegant glistles. Visiting Johan Clarysse:
Lees meer:  http://www.theartcouch.be/top-4/elegante-haperingen-johan-clarysse/