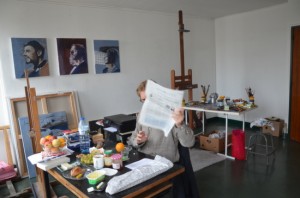 On friday the 18th and saturday the 19th of october, Johan Clarysse organises an Open Studio in the 'Cité des Arts'in Paris. 'Looking at (for) the invisible' is the title of his exposition, in which he presents some of his most recent works.
On one side, the title refers to art as an effort – in the spirit of the Greek hero Sysiphus- to suggest the invisible and the intangible. On the other hand it refers to figures on the painting that are lookng to something unreal, to something beyond the gaze, which provokes feelings of anxiety, serenity, extacy…
When : 18/10 from 18 to 20h and 20/10 from 17 to 21h.
Place:Studio 8312/Cité Internationale des Arts, Rue de l'Hôtel de ville, 18 75004 Paris
www.citéinternationaldesartsparis.fr