2021 Art and Culture for Tejo vzw
Art auction for the benefit of Tejo vzw: from 6/3 to 23/3. Curator Koen Van damme and Soroptimist International.
https://www.facebook.com/vdartauctions/videos/245700170594434
The search for identity, 120×100 cm, 2016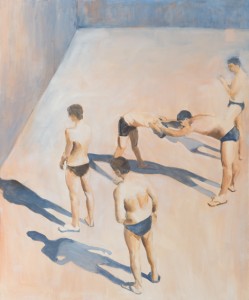 With works by Berlinde Debruyckere, Sofie Muller, Nick Ervinck, Arno Quinze, Maen Florin, Stief Desmet, Johan Clarysse, Adelheid Dewitte, Benjamin Moravec, Bilal Bahir, Colin Waeghe, among others, Hans Vandekerckhove, Koen Broucke, Reniere& Depla, Sarah Devos, Steven Peters Cabalero, Yves Velter, Vladimir Moszowski, Filip Naudts, Maria Blondeel, Hanne Lamon, Steven Baelen, Nele van Canneyt.
Tejo vzw offers accessible therapeutic assistance to young people between 10 and 20 years in Flanders. This service is provided by professional therapists on a voluntary basis.