Opening sunday 29/10 at 3 pm, Sint Jansstraat 15 Brugge
Introductiin by Els Wuyts, co-curator Triënnale Brugge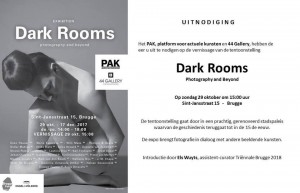 'Dark rooms/Beyond photography' will bring a dialogue/confrontation between photography and other visuals arts (painting, graphics, sculpture, collage…). The exposition is a collaboration between Gallery 44 and PAK Gistel. The title of the exposition refers as well as to the medium photography as to the issues in the showed works.
With works of Koen Hauser, Pieter De Bruyne, Maria Kapajeva, Kirill Chelushkin, J.M. Chapa, Danielle van Zadelhoff, Karel Fonteyne, Greet Desal, Isabelle Wenzel, Wim Maes, Johan Clarysse, Didier Mahieu, Reniere en Depla, Pieter-Jan Martijn….